News

CUAHSI HydroShare enables groups and individuals to share data and models: 
 storage, analysis, and publication.
Migration to CUAHSI's HydroShare
CZO is partnering with CUAHSI to migrate our data catalog from CriticalZone.org to CUAHSI's HydroShare.org repository in 2019. Migration goes well beyond moving our metadata. It will also help us
Gain a central, long-term data repository.
Improve search and browse.
Enhance collaboration among CZO researchers and their partners.
Collaboration with Clowder on HydroShare migration
CZO and CUAHSI are collaborating with the Clowder team (led by NCSA), with emphasis on authoring metadata and interoperability between HydroShare and Clowder. Clowder is online software that helps communities manage research data via customized data catalogs and data processing tools.
CZO data handout for AGU 2018
A two-page handout about CZO data and the 2019 migration to CUAHSI's HydroShare.
---
Primary data access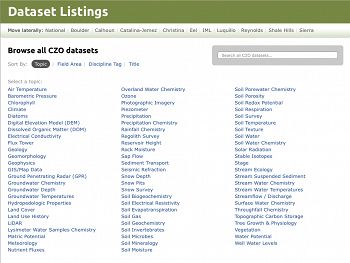 Dataset Listings = Centralized metadata catalog at CriticalZone.org
400+ datasets across the network
2000+ URLs pointing to files & webpages
Millions of data values
Browse 70 main topics including Meteorology, Soil Moisture, GIS/MapData, Streamflow/Discharge, Precipitation, 
Soil Temperature, LiDAR, Stream Water Chemistry…
CZO dataset listings
National | Boulder | Calhoun | Catalina-Jemez | Christina | Eel | IML | Luquillo | Reynolds | Shale Hills | Sierra
Dataset listings have a standard metadata format and point to data produced by CZO as well as related data produced by non-CZO organizations (ie USGS, NOAA, 
USDA, NEON, LTER). Links to data files are provided. Data files and databases are *not* hosted here on CriticalZone.org. Instead, they are hosted by national data repositories, individual CZO data catalogs, federal data centers, and other sources. File types range widely, including CSV, Excel, and JPG. Files are grouped into collections called "datasets", which are organized by discipline, topic, creators, field areas and/or variables.
Network data products
In the past few years, CZO data managers have been synthesizing more of CZO's common measurements and partner data into cross-network data products. Example dataset listings for these products include:
Water Budget Data Products - Precip, Throughfall, Discharge (in review)
Soil Chemistry (In review)
Weather Station Data Products (In review)
---
Alternative access points
Data catalog websites
Boulder | Calhoun | Catalina-Jemez | Christina | Eel | IML-map | IML | Luquillo | Reynolds | Shale Hills | Sierra
These websites provide an alternative access point for an individual CZO, with differing interfaces. Much of these data are also available via the standardized Dataset Listings (primary access point).
Non-CZO repositories
IEDA EarthChem | CUAHSI Hydroshare | KNB | LTER-NIS | OpenTopography
Individual CZOs have submitted some of their data to be archived (or soon will be archived) by data center organizations such as those listed above.
EarthCube CINERGI
More than 760 CZO data resources are automatically ingested into the CINERGI inventory from the CZO Data Search Portal API (see below pilot projects). CINERGI contains more than 1 million metadata records across many disciplines of the geosciences. The metadata are semantically enhanced.
Pilot projects
(may not be fully functional or complete)
CZO Data Search Portal - Power search and filtering. All portal metadata is available via web services API access.
CZO Data Visualization Portal - Map-based searching and data visualization. Includes some remote sensing and time-series data.
---
Information about data use and data sharing
Data Use Policy
All CZO Data Products except those labelled Private are released to the public and may be freely copied, distributed, edited, remixed, and built upon under the condition that you give acknowledgement as described on subsequent pages.
Data Sharing Policy
CZO investigators and data managers are expected to make their data publically available as soon as possible.

Data Sharing Guidelines
CZO investigators and data managers should follow these guidelines. For example, metadata should be submitted to CriticalZone.org, which enables data searching across observatories
---
Overview of the integrated CZO Data System
A national CZO Data integration effort is leveraging international data standards, cyber-infrastructure developments and new technologies to assist CZO investigators and data managers with sharing data in a manner that enables high-level integration and supports the Theory-Model-Data fusion approach to Critical Zone science. Learn more about the CZO Data System.
---
Tool Development
Data management software
With our partners, CZO has contributed to a series of software projects that help structure and manage our diverse data. They include:
---