Example activities
Outlined below are key examples of educational activities coordinated by the CZO National Office to engage K-12 teachers or administrators overseeing K-12 funding programs.
Many additional K-12 E/O activities are run by the CZO program, mostly led by individual Observatories. To see examples of those per-CZO efforts, select an observatory from the "Move laterally" menu above."
AGI Earth Science Week
CZO researchers cooperated with the American Geosciences Institute's Earth Science Week since 2013, providing "hands on" learning exercises that are sent to more than 16,000 teachers nationwide.The CZO National Office intends for this cooperation to continue on an annual basis. More information is available in a 2014 News story and a 2015 News story (African Dust feeds the Puerto Rico ecosystem).
AGI hands-on learning exercises:
CZO REU/RET program
Tim White, as national coordinator, and Susan Gill, Stroud Water Research Center education director, developed a successful Research Experience for Teachers (RET) program that places 2 secondary education teachers each at the Christina River Basin and Shale Hills CZOs during the summers of 2014 through 2016.
2016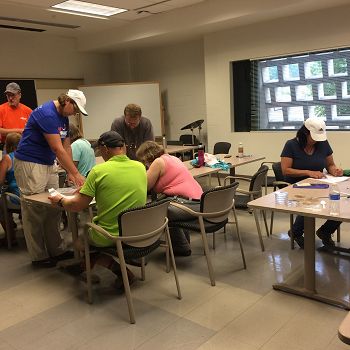 RET, Lauren Smith, lead a secondary teachers workshop at Penn State University on the use of Virtual Field Experiences in a classroom. Smith led 10 participants in a lecture and series of discussions followed by a guided afternoon tour of the Shale Hills CZO by Tim White and Dave Eissenstat (PSU). The workshop concluded with an aquatic invertebrate exercise using Stroud Water Research Center's Leaf Pack Experiment Kit.
2015
A CZO Science Teaching Workshop, organized by two RETs and National Office collaborator Don Duggan-Haas, was held in State College, PA to provide K-12 teachers an introduction to CZ science through the creation and use of Virtual Fieldwork Experiences (VFEs).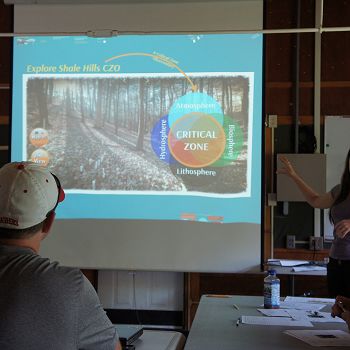 RET Sharon Dykhoff developed a hydrology learning unit available through the Science Education Resource Center (SERC) entitled "The Case of the Muddy Water: Using Authentic Data to Investigate Impacts of Hydrofracturing." The objective of this lesson is to introduce the potential impacts of natural gas extraction through data analysis.
2014
Two teachers developed learning exercises and presented the results of their summer experience at the Pennsylvania State Teachers Association meeting in State College, PA on December 8, 2014.
REU/RET hands-on learning exercises:
Ground Penetrating Radar - Monitoring Soil Moisture (1 MB docx)
Carbon Storage Measurements in Forests (1 MB docx).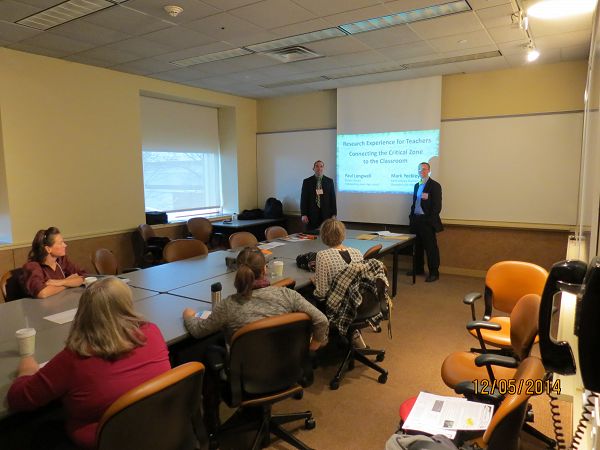 Paul Longwell (Hollidaysburg Area School District, PA) and Mark Yeckley (Glendale School District, PA), 2014 summer RETs at the Shale Hills CZO, present the results of their summer experience at the PA State Teachers Association meeting in State College, December 2014.
On-line Critical Zone Course
Tim White developed an on-line open-source course entitled 'Earth Surface Processes in the Critical Zone'. The course is formally offered through The Pennsylvania State University's Masters of Education in Earth Sciences program and aims to educate middle and high school teachers interested in incorporating Critical Zone science into their classroom curriculum. Course Home Page
GSA Short Course
As national coordinator, Tim White taught a short course entitled "Introduction to Critical Zone Science and Observatories" at the 125th anniversary meeting of the Geological Society of America in Denver in October 2013, a course that will be offered again at the GSA meeting in Vancouver, B.C., Canada in October 2014. CZO News Article
Earthscope Talk
The CZO national coordinator traveled to Arizona State University during February 2012 to the Education and Outreach summit organized by Earthscope, presenting a short talk on CZO efforts and engaging colleagues from a variety of NSF-sponsored science initiatives to learn and share. Earthscope blog
STEM Conference
CZOs were included in the NSF-sponsored national Science, Technology, Engineering and Mathematics (STEM) best practices conference at Drexel University in Philadelphia, PA on September 16, 2011, displaying large format posters, a stream table, and various on-line educational opportunities associated with the CZOs. CZO News Article