Remote Sensing with LiDAR
Airborne LiDAR was recently flown for the broader Southern Sierra CZO installations, including Providence, Bull, Teakettle, Tokopah, and Wolverton catchments, the San Joaquin Experimental Range (SJER), and the Soaproot Saddle and Short Hair Creek flux tower sites.
Bull and Teakettle are intermediate watershed sites located between the main CZO research site (Providence) and the Short Hair Creek flux tower. Flights were conducted in mid-March 2010 near peak snow accumulation and again in the summer 2010 after snow had melted.
LiDAR data will provide spatial distribution of snow depth, leaf area index, canopy structure, and a high resolution digital elevation map. DEM data are available now. Canopy data are currently being processed for distribution.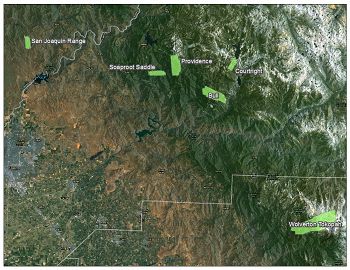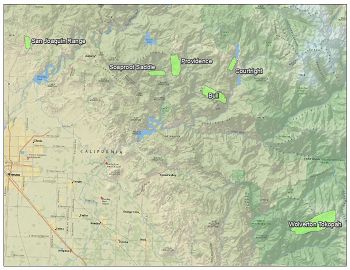 ---
Spatial Data and Modeling
Use of Landsat and MODIS data are used for various modeling activities. An overview of these modeling projects can be found in the Southern Sierra CZO website's section on Models.
---
GIS / Spatial Data
A variety of spatial data are available at our Southern Sierra CZO data website.
For additional information or to obtain spatial data not available on our digital library, contact our data manager Xiande Meng.