Geospatial Data
NCED Data Repository
. Please contact the Eel River Data manager if you would like more information.
Remote Sensing: LiDAR
Our area is also the beneficiary of 2 prior LiDAR flights by the National Center for Airborn Laser Mapping (NCALM). These datasets are available on OpenTopography.org (2004, 2009). The 2004 dataset covers the headwaters of the South Fork Eel River down to the confluence of Tenmile Creek. This area covers the Angelo Reserve. It has a point density of 2.64 points/m2. The 2009 dataset is a narrow swath running down the mainstem of the South Fork Eel River to the confluence of the South Fork with Middle Fork. The 2009 has a point density of 9.64 points/m2. We have processed the 2004 dataset into all the standard bare-earth data products (1m DEM, hillshade, slope, aspect, flow direction, flow accumulation, and derived river channel).
Remote Sensing: EarthEngine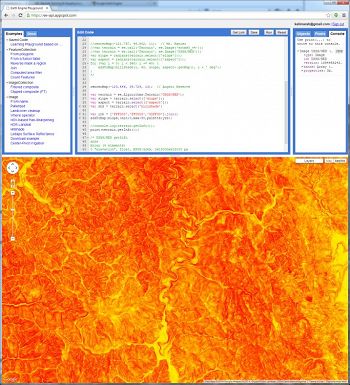 Google EarthEngine programming interface, showing javascript for displaying slope in two-color gradient. Feb, 2014.
Our group is experimenting with
Google EarthEngine
under the trusted tester program. EarthEngine allows researchers to access all the satellite and aerial imagery Google has aggregated for its maps and earth products and perform planetary scale algorithms on it. Code used is javascript and is run on Google's massively parallel systems.
Geophysics