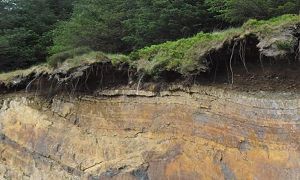 A Pennsylvania cliff, illustrating a cross section of the Critical Zone with trees, soil, and bedrock.
This module examines how geoscientists study processes in the Critical Zone and the interactions between natural processes and human activities that affect it. The module is part of a undergraduate course on CZ Science hosted by InTeGrate SERC.
Grades 15 - 16
GIS/RemoteSensing • SocialScience
Curriculum
Observatory: National CZO
Author(s): Susan Gill (Stroud Water Research Center), Ashlee Dere (University of Nebraska - Omaha), and Jim Washburne (Pima Community College and University of Arizona)
---
Contact(s):
---
Funding: National Science Foundation–funded SERC InTeGrate project
Related Resource(s):
---
Details for this Resource
The unit will include exercises that ask students to develop and implement strategies to address anthropogenic environmental impacts while also considering impacts to communities. Specifically, it will look at issues such as land-use change, access to potable water and universal access to food. In so doing, the unit will specifically address the human impacts on water availability and food supplies.