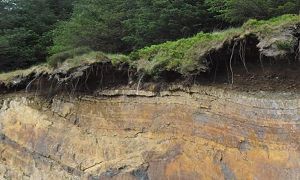 A Pennsylvania cliff, illustrating a cross section of the Critical Zone with trees, soil, and bedrock.
The primary goal of this module is to recall, infer, and interpret a wide variety of scientific principles that analyze the Critical Zone as a complex system of interacting regolith, water, air, energy and life. This module is part of a undergraduate course on CZ Science hosted by InTeGrate SERC.
Grades 15 - 16
All Disciplines
Curriculum
Observatory: National CZO
Author(s): Timothy White (Pennsylvania State University)
---
Contact(s):
---
Funding: National Science Foundation–funded SERC InTeGrate project
Related Resource(s):
---
Details for this Resource
In this module, students are introduced to the Critical Zone as a complex system that requires directed transdisciplinary study to understand: as of April 2017, Critical Zone science is just one decade old and is evolving as this course develops. Many of the fundamental approaches and concepts of Critical Zone science are derived from decades of soil science and related research endeavors now applied to conceptualizing and constructing systems models that will allow scientists to predict the effects of ongoing land use and climate change on the Critical Zone.
Module Outline
In these three units, students will:
Define the CZ, stressing:

Importance and state of the CZ
Temporal and spatial scales of study
The science as a transdisciplinary and international pursuit
Observatory and environmental gradient approach
Outstanding questions

Build framework for considering CZ processes and function

Access and consider existing online data
Introduce system modeling, research approaches, infrastructure and sample design