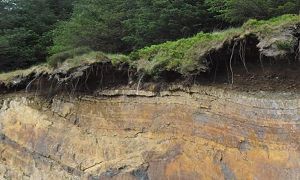 A Pennsylvania cliff, illustrating a cross section of the Critical Zone with trees, soil, and bedrock.
This 15-week upper-level undergraduate course introduces and examines the life-sustaining services and resources provided by the Critical Zone using publicly-available CZO data and literature. This course is hosted by InTeGrate SERC (Science Education Resource Center).
Grades 15 - 16
All Disciplines
Curriculum
Observatory: National CZO
Author(s): Timothy White (PSU), Adam Wymore (UNH), Ashlee Dere (UNO), Adam Hoffman (DBQ), James Washburne (UoA), Martha Conklin (UC Merced), Susan Gill (SWRC), Editor: David Gosselin (UNL)
---
Contact(s):
---
Funding: National Science Foundation–funded SERC InTeGrate project
Related Resource(s):
---
Details for this Resource
The body of the course focuses on cross-disciplinary science in the CZ and will focus on the large quantity of interdisciplinary data available from the existing NSF-funded CZOs. This course targets undergraduate students with some science background. Since students may come from different backgrounds (e.g. biology, Earth Science, chemistry, etc.), it is expected that students will have completed at least the general introductory courses of their major and some form of introductory chemistry and physics. Science Education majors and non-majors will also find many aspects of this course useful; however, students should seek instructor approval prior and discuss previous science course-work prior to registration. The course modules also can be used separately in a variety of geoscience related courses including biogeochemistry, environmental geology, physical geology, water resources, and/or hydrology.