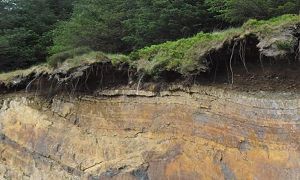 A Pennsylvania cliff, illustrating a cross section of the Critical Zone with trees, soil, and bedrock.
This module analyzes how energy and carbon flow through the CZ and how they drive CZ processes. Learn how to analyze data and use simple models to interpret spatial and temporal trends in energy flow to answer questions about CZ processes. This module is part of a CZ Science course hosted by SERC.
Grades 15 - 16
Climatology/Meteorology • Hydrology • SoilScience/Pedology
Curriculum
Observatory: National CZO
Author(s): Jim Washburne (The University of Arizona)
---
Contact(s):
---
Funding: InTeGrate: Interdisciplinary Teaching about Earth for a Sustainable Future Banner, Critical Zone Science
Related Resource(s):
---
Details for this Resource
The two units of this module follow a similar structure (introduction, data exploration, data analysis, and synthesis) to facilitate student and teacher use. Many of the activities include fact-based queries but also include the construction of various graphs. The main summative activity is at the end of the second unit where the students must construct a testable hypothesis linking ecosystem function with energy and carbon fluxes.
Unit 4.1: Energy Budgets (Two 75 min class sessions)

Analyze energy flux data collected at a CZO site of interest and calculate reference ET.

Unit 4.2 Carbon Budgets (Two 75 min class sessions)

Analyze carbon flux data collected at an Ameriflux site of interest to better understand the regional exchange of carbon.