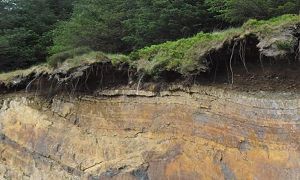 A Pennsylvania cliff, illustrating a cross section of the Critical Zone with trees, soil, and bedrock.
This module examines the integrated roles that biology, geology, and chemistry play in the CZ. Use data from real world systems to understand how the CZ is involved in key biogeochemical functions. This module is part of a undergraduate course on CZ Science hosted by InTeGrate SERC.
Grades 15 - 16
Geochemistry/Mineralogy • Biogeochemistry
Curriculum
Observatory: National CZO
Author(s): Adam Hoffman (University of Dubuque) and Adam Wymore (University of New Hampshire)
---
Funding: National Science Foundation–funded SERC InTeGrate project
Related Resource(s):
---
Details for this Resource
Instructors should note that this section primarily focuses on the carbon, nitrogen, and phosphorous cycles with a smaller emphasis placed on the sulfur cycle.