Wonder what soils and sponges have in common? Or why some trees in the Sierra Nevada are dying while others are surviving?
A new comic about the Southern Sierra Critical Zone Observatory highlights these and other findings by our researchers.
Read the entire comic online here.
You can also download the comic as a printable PDF with two bonus cartoons, including one featuring our Critical Zone Observatory's research leaders.
Principal Investigator Dr. Roger Bales takes readers on a narrative tour of the Observatory and its research. The comic visualizes the Observatory's research sites and activities, along with important critical-zone properties and processes.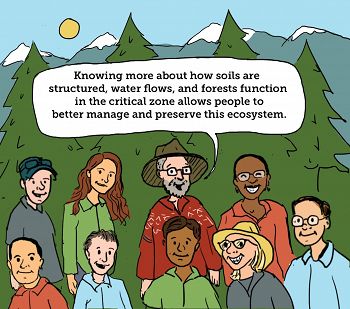 This comic was created by Dr. Justin Richardson and Michelle Gilmore, and illustrated by artist Alana McGillis.
Comics about each Critical Zone Observatory and other pieces about critical-zone research are on the CZO National Office's blog, Adventures in the Critical Zone, written by Justin Richardson and other Observatory scientists like Nicholas Dove and Brady Flinchum.
Written by Michelle Gilmore