Organic carbon (C), CO2 and chemical fluxes into and out of the soil zone and into the deeper subsurface represent boundary conditions for geochemical weathering along local and regional flow paths. These weathering reactions affect ecosystem nutrition, subsurface transmissivity, and the poorly quantified surficial to deep inorganic and organic carbon sequestration.
Of particular interest in the SSB theme are the feedback effects between physical and biogeochemical processes. These feedback effects are being probed in the CZ through the use of co-located sensors of soil physical conditions (top) and samplers that are interrogated for time-dependent changes in aqueous biogeochemistry.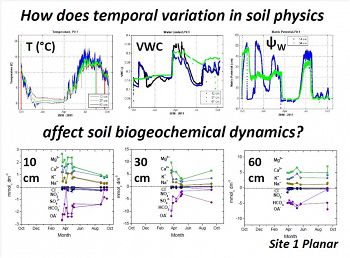 Event-based dynamics in soil solution chemistry are coupled to long-term evolution of regolith weathering profiles, with major variation, in this case across multiple CZOs, resulting from climatic variation. Detailed studies of regolith chemistry as a function of parent rock type, climate and depth reveal accumulation and depletion profiles that can then be related to climate and lithological drivers.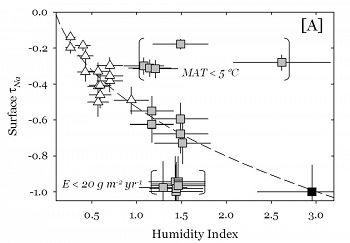 References:
Rasmussen C., Brantley S., Richter D.D., Blum A., Dixon J., and White A.F. 2011. Strong climate and tectonic control on plagioclase weathering in granitic terrain. Earth and Planetary Science Letters, 301: 521-530.