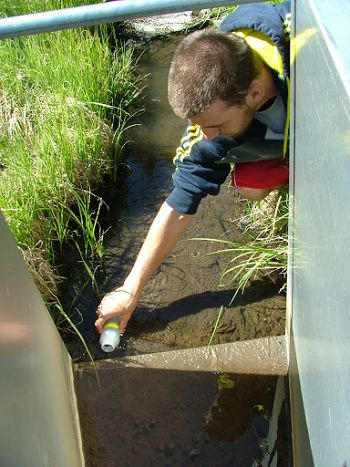 CZO samples are collected for analysis: (i) during CZO instrument installations, (ii) by in-situ sample collection equipment that is "semi-permanently" installed at various locations within the CZ, and(iii) during specific separate field campaigns.
For an example of (i): whenever soil pits are excavated for the purposes of subsurface sampler or sensor installation, composited soil samples are collected as a function of depth for a suite of subsequent laboratory analyses that provide information on mineralogy, geochemistry, organic matter composition, microbial composition, etc.
For an example of (ii): Samplers are installed in specific landscape locations throughout the SCM and JRB, particularly in the instrumented ZOBs, that are visited for regular (e.g., event-based or weekly) collection of vadose zone, saturated zone, and surface water samples.
For an example of (iii): Annual snow surveys are conducted near maximum snowpack to collect data on snow water equivalent and its distribution as a function of position with regard to aspect, vegetation structure, etc.