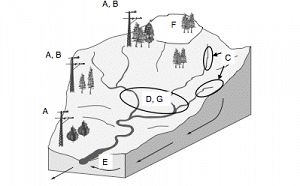 Contact: Paul Brooks, Shirley Papuga (Kurc)
Vegetation, soils, landform morphology, and bedrock play key roles in the partitioning of precipitation into canopy interception, infiltration, storage, soil evaporation, sublimation, plant transpiration, recharge, runoff, and stream flow. Hydrologic flow paths also feed back to affect vegetation structure, microbial community development, soil formation and hydraulic characteristics, landform morphology, mineral surface areas, and carbon transport. This theme is organized to capture these linkages between hydrology and CZ evolution.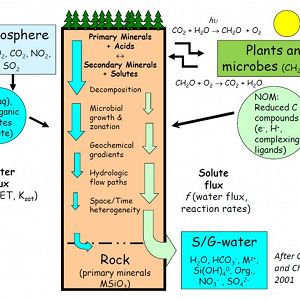 Contact: Jon Chorover, Craig Rasmussen
Subsurface reactions respond to energy, water, and carbon fluctuations that are superimposed on the spatial variability of solids and fluids distributed along water flow paths. Plants play a key transformative role because they convert water and atmospheric CO2 to photosynthate, translating highly-variable radiant energy into a more persistent subsurface reactant enriched in protons and electrons.