Hurricane Maria made landfall in Puerto Rico on September 20, 2017 as a Category 4 storm with sustained winds of 155 mph. The eye of the hurricane passed just south of El Yunque National Forest, home to Luquillo CZO. On September 26, LCZO PI Bill McDowell reported, "We have accounted for almost everyone in our large extended "family". Some people are still isolated. Most have no communications unless they drive somewhere, and gas is just about unavailable. We have not been able to do a real damage assessment in the forest, but damage is severe (photo). We are now able to start getting more people in the field to resume our measurements of critical zone fluxes and ecology, and to assess damage, and where we might need help."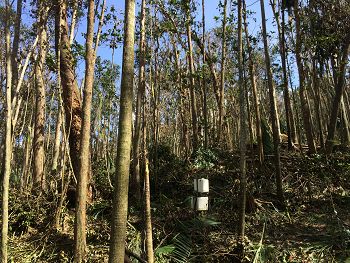 On Oct. 25th, Bill McDowell updated, "The aftermath has been very difficult, with limited communications (cell and internet) and extraordinary damage to the electrical grid. Traffic lights are not operational, and very few people have electricity, more than a month after Maria. Our research infrastructure suffered some losses (weather stations, cloud sampling sites, one field station building) but much of our instrumentation for continuous measurement of stream chemistry and soil trace gas fluxes made it through the storm and is operating. Our biggest issue right now is quantifying the effects on the forest (litter, branches, tree trunks) and navigating through the maze of fallen trees to gain access to our sites."
Bill recommends that those wishing to help visit the donation site of Puerto Ricoʻs First Lady Beatriz Roselló, Unidos por Puerto Rico.
¡Gracias!