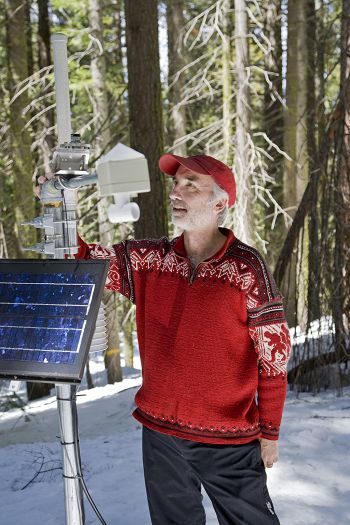 Dr. Roger Bales inspects a solar-powered snow depth sensor at the Providence Creek Catchments field site. Photo by Roger Wyan
Dr. Roger Bales presented the John F. Nye Lecture at the American Geophysical Union's 2017 Fall Meeting in December. His 45-minute presentation, Making up for lost snow: lessons from a warming Sierra Nevada, is now available to watch online.
The American Geophysical Union's Nye Lecture is awarded to recognize "an outstanding cryospheric scientist and her/his recent accomplishments as well as the individual's ability to present exciting science to the non-cryosphere community of AGU scientists."
Dr. Roger Bales has been active in water- and climate-related research for over 30 years. His work spans multiple disciplines including hydrology, glaciology, paleoclimatology, atmospheric chemistry, geochemistry, and environmental engineering. Dr. Bales has led "the development of regional, national and international measurement programs that are critical for understanding climate change and contributing to climate solutions". His current work in the fields of hydrology, critical zone science, and environmental engineering supports California's building of knowledge and implementation of policies for water security, ecosystem sustainability, and economic resilience as climate warms.
Dr. Bales has been a Founding Professor of Engineering at the University of California, Merced, since 2003 and directs the Sierra Nevada Research Institute. He is the Principal Investigator of the Southern Sierra Critical Zone Observatory, a Director of the University of California Water Security and Sustainability Research Initative, and an active researcher with several other multi-disciplinary research programs such as the Center for Information Technology Research in the Interest of Society.
Stream the 2017 Nye Lecture below or watch it on Youtube.
Article by Michelle Gilmore