Researchers from Southern Sierra Critical Zone Observatory come from many different backgrounds and work in a variety of disciplines. They all have their own story to tell. Take a look at October's researcher spotlight Jeff Lauder, Ph.D student at University of California, Merced, and learn about his work in the field of critical zone science!
Q&A between Jeffrey Lauder and Madeline Castro
What is your field of interest/research? How did you become interested in this topic?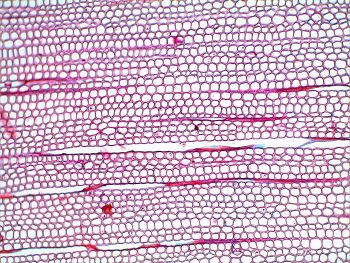 I am a forest ecologist, with a focus on ecophysiology. I study how trees respond to stress by tracking how they grow, both inside and out. In my current research, I use dendrochronology – the study of tree rings – to identify how trees resist or succumb to drought. I do this by asking what individual cells within a tree's wood can tell us about the whole tree, and if tiny cellular variations in a tree can give us clues to how drought-resistant trees do what they do. While I've studied and been interested in general forest ecology since my undergraduate research, I became interested in drought ecophysiology in response to the extreme drought of 2012-2016. This millennium-scale event led me to try to learn new methods for understanding how trees actually die or survive under drought.
What CZOs have you conducted research at? What kinds of research did you do there?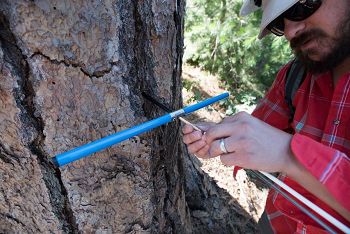 My research focuses on Sierra Nevada conifers, and I have sites all over the range, including at the Southern Sierra CZO. At all of my sites, I map trees to measure competition, measure tree diameters, and take tree cores and cone counts. The SSCZO sites, with their intensive instrumentation, serve to "ground-truth" my analysis of climate-growth relationships in all of my cored trees. At the SSCZO I've looked at the relationships between tree growth and soil moisture, snow depth and evaporative demand
What do you feel is the most exciting part of your research?
The drought of 2012-2016 led to a tree mass mortality event of more than 130 million trees, mostly pines. While it can be depressing to see so many dead trees, this is a unique opportunity to directly test various hypotheses about how trees die to drought and what means for future forests. Understanding how trees die or resist drought can provide an invaluable component of models of forest shifts under climate change. While it may seem pretty simple to describe how drought kills trees, we really don't know as much as we would like. I'm excited to be part of a group helping to fill that gap.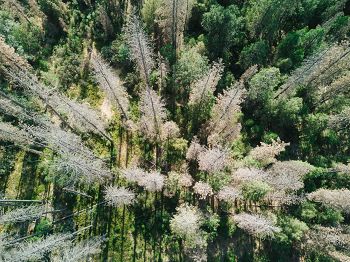 Why is your field of study important?
Drought intensity is increasing in the west. Current management for forest resilience to drought often focuses on thinning – removing trees to decrease competition for healthy trees. But we still know very little about what makes healthy trees so healthy. If we can identify exactly what makes trees drought resistant, we can help boost management success by making sure those trees aren't targeted for thinning, or identify certain drought-resistant stands. We could even use these traits to select which trees to gather seed from for planting future forests.
What you are most proud of in your research and/or academic/career experiences?
I would say my science communication. In an era of increasing public misunderstanding of science, particularly climate science, communication is key. In addition to giving multiple public lectures and talks at events hosted by local land managers to disseminate my findings to those who need it most, I've tried to help boost scientific communication from the sciences by helping form and run a science podcast group called RadioBio. Getting science out from behind the academic paywall and into the hands of the public is key, and I'm proud of being a part of that effort.
What is your favorite part of the Critical Zone (soil, water, rock, etc.) and why?
Trees! Obviously. Besides my own personal bias toward conifers, trees and plants are natures plumbing. Without trees, water wouldn't cycle the way it does through the Critical Zone. Trees are nature's recycling wicks, moving water from the soil back into the atmosphere, which can lead to really cool, complex interactions between trees and other parts of the Critical Zone.