Setting & Research
This site is part of an elevational transect that increases in altitude from west to east.
Sites include San Joaquin Experimental Range, Soaproot Saddle, Providence Creek Headwater Catchments, and Short Hair Creek, spanning a 2300-m elevation range that captures gradients in climate, regolith, soils, and vegetation. Along this transect, bedrock lithology is generally constant (intrusive felsic plutons). Ecosystems range from low-elevation oak savannah (rain-dominated) to high-elevation subalpine forest (snow-dominated). A series of eddy-covariance gas flux towers are installed at these sites (see below). Examples of transect-length work include soil and regolith depth, chemistry, and moisture characterizations; vegetation surveys; forest water-balance research; and wind-blown dust geochemistry and microbiology studies.
---
SSCZO & KREW
The Providence Creek Headwater Catchments are part of the Kings River Experimental Watersheds (KREW) program which is run by scientists from the USDA Forest Service Pacific Southwest Research Station. Sub-catchments of Providence Creek have undergone various management treatments and KREW is studying the effects of these treatments such as impacts on sediment production, stream water quantity and quality, and forest health. Providence is the primary SSCZO--KREW research area. For an overview of SSCZO and KREW measurement programs, see O'Geen et al. (2018).
---
Climate, Landscape, Soils, Vegetation
From O'Geen et al., 2018:
Providence Creek Headwater Catchments represents a rain-snow mixed-conifer forest site. Mean Annual Temperature: 8°C. Mean Annual Precipitation: 1015 mm yr−1.
Nested within the 4.6 km2 Providence Creek catchment (P300) are three subcatchments: P301, P303, and P304. Providence Creek is a tributary to the North Fork of the Kings River.
Three main soil series are mapped in the Providence catchments: Gerle (coarse-loamy, mixed, superactive, frigid Humic Dystroxerepts) and Cagwin (mixed, frigid Dystric Xeropsamments) are found at higher elevations (1800–2400 m), and Shaver (coarse-loamy, mixed, superactive, mesic Humic Dystroxerepts) occurs at 1750 to 1900 m (Bales et al., 2011). Gerle and Cagwin have a frigid soil-temperature regime. Cagwin and Gerle series are classified as Dystric Xeropsamments and Humic Dystroxerepts, respectively. Cagwin tends to occur on erosive landscapes such as convex ridge tops, steep mountain slopes, and sparsely vegetated areas intermixed with rock outcrops. As a result, Cagwin is sandy with shallow and moderately deep phases and minimal horizon differentiation. Gerle series displays some initial stages of pedogenesis. It is very deep, well drained and formed in glacial till, glacial outwash, and alluvium derived primarily from granitic rocks. Shaver has a warmer (mesic) soil temperature regime compared with higher elevation sites. The profile shows initial stages of pedogenesis with sandy loam textures throughout and slight rubification and transformation of primary minerals.
Vegetation community comprises largely mixed-coniferous forest (76 to 99%) with some mixed chaparral and barren land cover. Sierran mixed-conifer vegetation at the site consists largely of white fir [Abies concolor (Gord. & Glend.) Lindl. ex Hildebr.], ponderosa pine, Jeffrey pine (Pinus jeffreyi Balf.), California black oak, sugar pine (Pinus lambertiana Douglas), and incense cedar.
For additional information on climate and vegetation, see also Goulden et al., 2012.
---
Instrumentation
Sensors and instruments installed within the Providence Creek headwaters are used principally to measure forest water fluxes. The primary catchment is designated P300 with multiple subcatchments contained within it (P301 through P304). Subcatchment P301 contains the majority of instrumentation, with meteorological and stream-gauging stations also installed in other subcatchments. For additional technical information visit our Sensors & Field Instruments page or see O'Geen et al., 2018.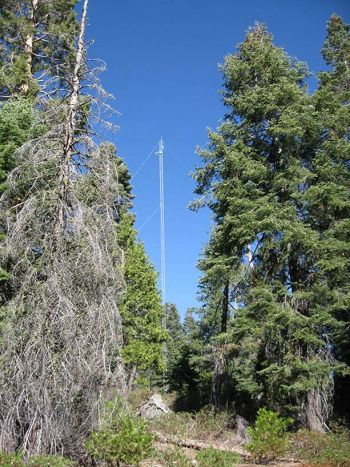 Flux Tower
An eddy covariance flux tower is located near the top of the P301 subcatchment. The tower was installed in September 2008 at an elevation of 2015 m above sea level. This data can be analyzed to determine the physiological responses of the site (for example, how photosynthesis increases with light) and summed over a year to determine the carbon balance of a site (how much carbon it is gaining or losing).

Critical Zone Tree
Inside the P301 subcatchment, the SSCZO's established the first Critical Zone Tree in October 2008 at an elevation of 2020 meters. This CZO tree is a White Fir (Abies concolor) that has been intensely instrumented with soil moisture, temperature, and matric potential sensors, snow depth, solar radiation, and sap flow sensors, resin nutrient collectors, tension lysimeters and time lapse photography. Snowmelt patterns around the tree can be viewed in this 2008-2009 time lapse video.

Meteorological Stations
Field staff from the USDA Forest Service KREW project maintain two meteorological (met) stations located in the Providence Creek headwaters. The upper elevation station (Upper Met) is located within the P303 subcatchment at an elevation of 1980 meters. The lower elevation station (Upper Met) is located within the larger P300 catchment at an elevation of 1750 meters. Both met stations were installed in October 2002.

Water Balance Instrument Cluster
Water balance instrument clusters are used to monitor snow depth, solar radiation, air temperature, soil water content, and soil temperature. The instruments capture forest-cover and landscape variability through node placements under tree canopy, at drip edge, and in open areas; and on North, South, and Flat slope aspects. Instrument cluster sites include the Upper Met Station and Lower Met Station, installed installed October 2007 (Flat aspect) and December 2007 (North and South aspects). Another water-balance transect was installed in December 2008 around the P301 meadow complex and the forested slopes adjacent to the meadows. In addition to the instrument clusters, the transect also includes monitoring wells, piezometers, soil sensors, and meteorological sensors, with elevations ranging between 1950 and 1990 m.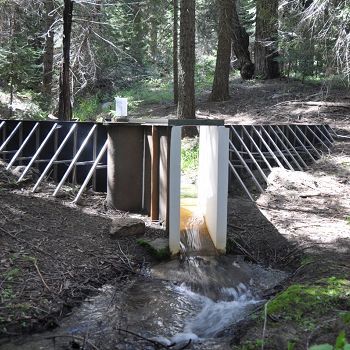 Stream Gauging Stations
Providence Creek gauging stations are located at the outlet of each research catchment. The four catchments (P300, P301, P303 and P304) are instrumented in similar ways, outfitted with both high and low flow flumes, water depth sensors, and an ISCO sampler. These instrumented stream sites are operated and maintained by field staff from KREW and SSCZO. KREW installed P300 instruments in October 2009; P301, P303, and P304 instruments were installed in September 2008. They are located at a mean elevation of 1740 meters.

Micromet Sensors
The four research catchments in the Providence Creek headwaters have also been instrumented with HOBO microclimate sensors, measuring air temperature and relative humidity. These micromet sensors were installed in summer 2011 and removed late 2013-summer 2015. Elevations ranged from 1500 and 2020 meters. Sensor location varies in each catchment, selected based on existing soil moisture and sapflux sampling locations and elevation gradients. The collected microclimate data will increase the density of the distributed microclimate network which will allow us to better estimate the spatial variability of microclimate and eventually improve model predictions of snow, soil moisture, transpiration and streamflow.
---
A critical research zone in the Sierra

Video by Nick Strayer, Office of the President.
University of California Research video
---