Setting & Research
Flux Tower
The Southern Sierra Critical Zone Observatory installed its first flux tower near the top of the P301 subcatchments in September 2008. Three other towers were added in 2009 and 2010, creating the west-to-east transect of sites ranging from low-elevation oak savannah to high-elevation subalpine forest. The P301 tower's elevation is 2015 m.
The flux tower is used to analyze the carbon and water balance of the surrounding forest. Instruments on the tower track changes in carbon dioxide, water vapor, temperature, relative humidity, among others. Additional instruments around this tower capture snow depth, remotely-sensed and in-situ soil moisture, and visible and infrared canopy photos.
This data can be analyzed to determine the physiological responses of the site (for example, how photosynthesis increases with light) and summed over a year to determine the carbon balance of a site (how much carbon it is gaining or losing). This data is also used with the water-balance transect described below.
---
Water-Balance Transect
The water-balance transect at P301 was installed in December 2008 around the field area's montane meadows and forested slopes adjacent to the meadows. Water balance instrument clusters are used to monitor snow depth, solar radiation, air temperature, soil water content, and soil temperature. The instruments capture forest-cover and landscape variability through node placements under tree canopy, at drip edge, and in open areas; and on North, South, and Flat slope aspects. In addition to the instrument clusters, the transect also includes monitoring wells and piezometers in the meadows to track ground- and surface-water interactions. Elevations range between 1950 and 1990 m.
---
Critical Zone Tree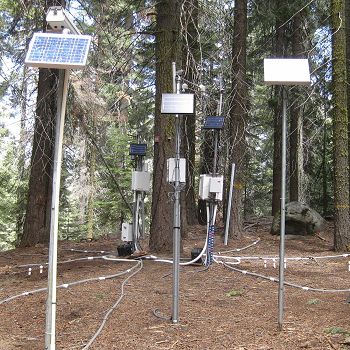 Sensors radiate out around Critical Zone Tree-1, measuring soil temperature, soil moisture, sap flow, meteological variables, and snow pack, among other factors of interest.
Inside the P301 subcatchment, the SSCZO established the first Critical Zone Tree in 2008 (CZT-1), which Dr. Roger Bales calls the most instrumented tree in the Sierra Nevada. This White Fir (Abies concolor) has been intensely instrumented with soil moisture, temperature, and matric potential sensors; snow depth, solar radiation, and sap flow sensors, resin nutrient collectors; tension lysimeters; and time lapse photography. Several other CZ Trees were temporarily instrumented between 2008 and 2015. CZT-1 is the only remaining instrumented Critical Zone Tree. Update: The tree has died due to the most recent drought, however instruments on and around the tree are still monitoring.
Researchers were interested in addressing the following questions:
How do trees utilize water? What is the timing of their water use? How does soil depth relate to these two questions?
How do surface and subsurface water budgets behave in these remote settings? How does moisture and temperature variablity in the near surface soils impact the water budgets?
In designing this setup, the researchers aimed to monitor of surface and subsurface water budgets in remote landscapes, with specific attention to moisture and temperature variability in near surface soils. Another goal was to study the interactions between soil hydrology and tree root water uptake in a forested catchment, as part of a wider effort to analyze changing ecosystem response to changing environmental inputs. The Critical Zone Tree research has provided and intensive, detailed view of water use by trees in these mid-elevation areas. Combined with other projects, including data from flux towers and subsurface exploration, we have found that trees at these elevations access water from much deeper sources than previously thought, and are active through much of the winter.
A camera installed at this site captures daily changes in snow cover. Play these time lapse videos to watch the snowmelt patterns throughout the winter over multiple years.
Winter 2008-2009 time lapse video
Winter 2009-2010 time lapse video
Winter 2010-2011 time lapse video