Energy production, agriculture, and development have altered the global biogeochemical cycles that support life on Earth. A population of over 7 billion people exerts tremendous pressures on ecosystems, threatening their ability to meet human needs and impacting underlying carbon, nutrient, and water cycles. It is necessary to understand these underlying life support systems in order to develop creative solutions for a sustainable future.
This grand challenge motivates Eve-Lyn Hinckley's research program. Hinckley seeks to discover and quantify the processes that regulate biogeochemical cycles within terrestrial ecosystems. She is investigating how ecosystem metabolism, residence time, and mobility of carbon, nitrogen, and sulfur respond to changing forcing factors, such as climate, land cover/land use, and atmospheric deposition/fertilizer applications. Ultimately, Hinckley hopes to link her results to those of other researchers studying coupled atmospheric and aquatic systems – to inform local decision-making. Recently, Hinckley has been collaborating with colleagues to explore network science design and develop observation-modeling frameworks that predict biogeochemical phenomena at large scales.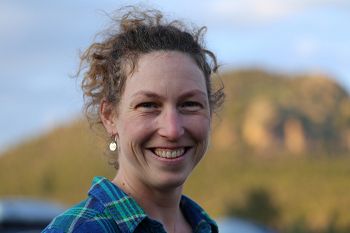 "I have witnessed increasing pressure on the landscapes where I've lived and done my research, caused by more and more people living and working in them. This is happening everywhere – across the U.S. and around the globe." – Eve-Lyn Hinckley
It would be easy to see this as a negative change, but I think it has also prompted dialogue among community members about how to make more sustainable choices and how to grow in ways that maintain the character, beauty, and services that ecosystems provide. These conversations give me a glimmer of hope.
I grew up in rural Western Massachusetts, and, as a child, spent my time wandering the meadows and farmlands surrounding our home. I'd take only my journal and pause occasionally to observe and write. Those early experiences outdoors ultimately led me to pursue environmental studies. As a freshman at Middlebury College, I took Dr. Andrea Lloyd's Intro to Ecology course and did not turn back. I was inspired by Dr. Lloyd's tales of studying treeline change in Alaska and by her infectious enthusiasm for understanding how ecosystems work.
I think that the critical zone is a useful concept for helping people to think about how terrestrial ecosystems evolve and function. CZOs provide a framework for understanding and investigating interacting processes (ecological, hydrological, biogeochemical, geological, and geomorphological) that cut across broad spatial and temporal scales. CZOs also foster an appreciation for soil – its development, function, and ecosystem services. Globally, human impact on soils is occurring at an unprecedented and unsustainable rate. The CZO community is creating a body of research that demonstrates the value of soils.
The CZO network offers a diversity of interesting research sites and a fantastic community of colleagues within the Earth and environmental sciences who challenge one another to approach problems in new ways.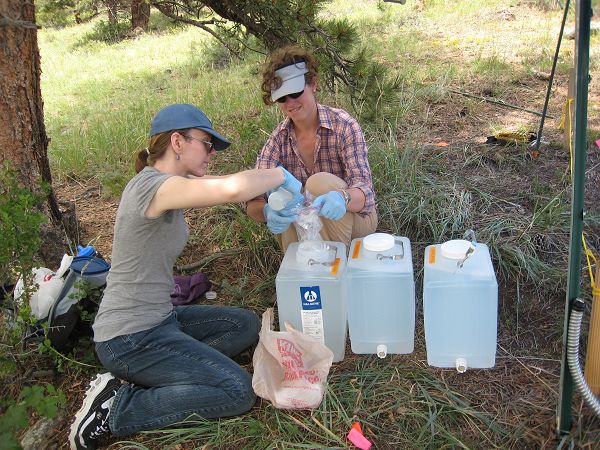 At the Boulder Creek CZO, Gordon Gulch study site, conducting a study to understand the fate of atmospheric nitrogen deposition and the hydrologic response of the catchment during a simulated rain event.
In my research, I enjoy thinking across disciplinary boundaries. I am active in several communities: ecosystem ecology, catchment science, soil science, the Critical Zone Observatory Network (CZO), the Long-term Ecological Research (LTER) Network, and the National Ecological Observatory Network (NEON). I have worked extensively with researchers from a range of disciplines within these communities, as well as with citizen groups, land managers, and environmental agencies. Additionally, I have included students from a variety of majors in my field and laboratory efforts. I believe that such collaborations make for the best-integrated systems research and increase the likelihood that research findings will inform new land use practices.
One of the most challenging aspects of my research is figuring out how to extend my studies across larger spatial extents and longer timescales. To accomplish this, I have been collaborating with modelers at NCAR (National Center for Atmospheric Research) and I have been actively involved in building and designing network resources, including CZOs, LTER, and NEON.
Another ongoing challenge is how best to transfer knowledge into practice in terms of managing ecosystems. One solution involves identifying key individuals (e.g., landowners/managers, community organizers) within the communities where I do research who can help to communicate results more broadly.
Developing creative approaches to communicate science is key to seeing current behaviors change.
I like to give presentations about my research to diverse audiences – including to groups other than just scientists. I enjoy presenting to landowners/managers and other community members. I have written articles for industry journals that target practitioners, and I have also developed summer camp courses for middle school students to teach them about water sources, flows, and uses in the Boulder Creek Watershed, where the BcCZO is located. I think there is great potential to use social media (Twitter, YouTube, etc.) to creatively demonstrate the importance and relevance of the CZ to school children and to the public.
:: By Linda Copman, staff writer ::