In a new study, Professor Praveen Kumar and graduate student Meredith Richardson find that using corn for biofuel comes with greater environmental costs and fewer benefits than using corn for food.
Released from the National Science Foundation on June 20, 2017.
Find related stories on NSF's Critical Zone Observatories at this link.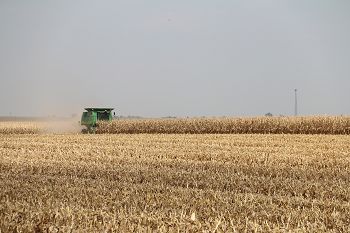 Corn is grown not only for food; it is also used as an important renewable energy source. But renewable biofuels can come with hidden economic and environmental issues.
The question of whether corn is better used as food or as biofuel has persisted since ethanol came into use. Now, for the first time, researchers have quantified and compared these issues in terms of the economics of the entire production system to determine if the benefits of biofuel corn outweigh the costs.
Scientists Praveen Kumar and Meredith Richardson of the University of Illinois at Urbana-Champaign published their findings this week in the American Geophysical Union journal Earth's Future.
The results show that using biofuel corn doesn't completely offset the environmental effects of producing that corn.
As part of a National Science Foundation (NSF) project to study the environmental effects of agriculture in the U.S., the Illinois researchers obtained a comprehensive view of agricultural ecosystems to analyze crops' effects on the environment in monetary terms.
The research was conducted as part of NSF's Intensively Managed Landscapes Critical Zone Observatory (CZO), one of a network of nine NSF CZOs across the country.
Continue reading this article on NSF.gov, or visit the Illinois News Bureau website.
Find the research publication discussed in Earth's Future here.