Abstract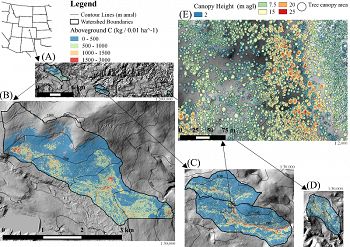 Evaluating at high spatial-resolution the topographical and ecological structures of the critical zone (CZ) are now routine with aerial LiDAR. Here we evaluated the eco-hydrological differences of topographic metrics (the independent variables) versus individual tree and gridded aboveground carbon (AGC) pools (as dependent variables) at multiple length-scales across an elevation modified gradient of precipitation and temperature in the Boulder Creek CZ Observatory Watershed, Colorado USA. We describe the responses in AGC within the context of a three-zone eco-hydrological model, e.g. toe slope and valley bottoms (Zone 1), transitional hillslopes (Zone 2), and upper slopes to ridges (Zone 3). In a GIS we compared three separate zero-order basins: (1) the Betasso Preserve: 1,810-2,024 meters above mean sea level (m aμsl), area = 0.45 km2, n = 17,286 trees; (2) Upper and Lower Gordon Gulch: 2,446-2,737 m aμsl, area = 3.57 km2, n = 178,469 trees; and (3) Como Creek: 2,900m-3,560 m aμsl, area = 6.64 km2, n = 317,274 trees. In each of the three catchments Zone 1 held the greatest mean AGC (μ = 52.88-60.97 Mg C ha-1) and maximum AGC (99% confidence interval (CI, p = 0.01) = 152.95-184.95 Mg C ha-1) relative to Zone 2 (μ = 27.84-44.52 Mg C ha-1, 99% CI = 99.67-122.4 Mg C ha-1) and Zone 3 (μ = 12.63-30.33 Mg C ha-1, 99% CI = 62.16-92.65 Mg C ha-1). Topography with negative general curvatures (i.e. convergent shapes) had greater AGC (μ = 73.7-96.3 Mg C ha-1, 99% CI = 189.0-355.8 Mg C ha-1) than positive general curvatures (i.e. divergent shapes) (μ = 17.4-30.8 Mg C ha-1, 99% CI = 88.2-120.4 Mg C ha-1), but only when evaluated at longer length scales (<10 m). Larger AGC pools are postulated to be related to (1) increased soil depth which provides larger rooting zones and (2) access to groundwater along Zone 1, vs Zones 2 and 3 which have (a) shallower soils and (b) less or zero accessibility to groundwater.
Citation
Swetnam T., Brooks P., Gallo E., Barnard H., Harpold A. (2015): Topographic Control of Aboveground Carbon Pools Across an Environmental Gradient, Eastern Slope of the Rocky Mountains, Colorado. Abstract H21C-1382 presented at 2015 Fall Meeting, AGU, San Francisco, CA, 14-18 Dec..
This Paper/Book acknowledges NSF CZO grant support.