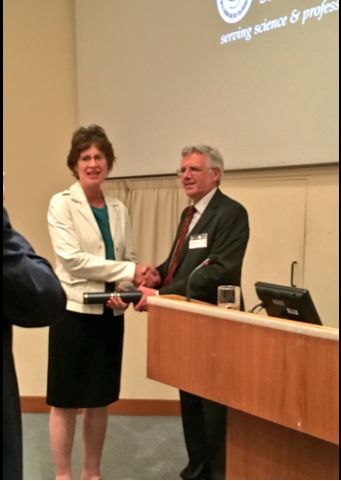 We are proud to announce that Dr. Susan Brantley, Lead-PI of the Susquehanna-Shale Hills CZO, Professor of Geosciences at The Pennsylvania State University, and member of the U.S. National Academy of Sciences, has been awarded the 2016 Wollaston Medal by the Geological Society of London. The Wollaston Medal recognizes geologists who have had a significant influence on the field through a substantial body of impactful research. This is the highest award given by the Society with previous winners including William Smith, Louis Agassiz, Charles Darwin, John Tuzo Wilson, Bob Garrels, Wally Broecker, Jason Morgan, Maurice Ewing, and James Lovelock. Brantley is the second woman to win the prize in its 185-year history.
The Geological Society of London recognized the breadth of disciplines and influence of her work as unparalleled. Her work both in the laboratory and field has involved the application and often, the development of many different techniques. Read more on Brantley's influential research and dedication to the Geosciences in the following citation:
Susan Brantley – 2016 Wollaston Medal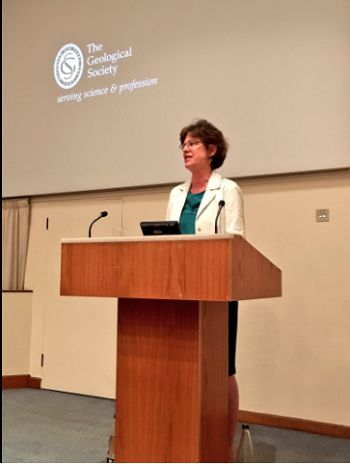 Finally, we come to the Wollaston Medal – the Society's senior medal and highest accolade, first awarded to William Smith in 1831. Today this most prestigious accolade goes to Professor Susan Brantley of Pennsylvania State University.
Susan Brantley, author of over 200 scientific papers, has published extensively across the whole range of disciplines relating to fluid-mineral reactions in low-temperature environments; the tectonic, climatic and environmental implications of these processes and the importance of biology in these reactions; and CO2 emissions from volcanoes and faults. The breadth and influence of her work is unparalleled.
Very few scientists carry out such a wide range of studies in both laboratory and the field. In mineral-fluid reactions, her important papers range from observations and modeling at the atomic scale, to laboratory studies of mineral dissolution rates (many of which are now classics), to field studies of detailed processes, integrated field studies of whole catchments and a highly cited paper on pyrite size-distributions as redox indicators.
These studies have involved the application – often, the development - of many different techniques, including analysis of novel stable-isotope systems, Uranium-Thorium chronometers, and detailed reactive transport modeling (especially of weathering rinds and regolith). Over 40 papers concern the ways in which biology and biological products contribute to weathering processes - a very difficult subject area at the cutting edge of geoscience research.
Susan Brantley has played a critical role in managing and organizing science - notably, establishing the Critical Zone Observatory Network, which now has nine major field observatories up and running in the USA. These stations possess the complex infrastructure and resources needed for time-series observations, as well as – behind them - the collaborative network of scientists capable of making the multi-disciplinary observations required to understand some of the most complex and important geological environments on Earth.
A recent example of her research acumen is exemplified by her attention to environmental questions raised by shale gas exploitation, publishing a series of papers on implications for surface and groundwater pollution, as well as more fundamental papers on the properties of the host shales.
Susan Brantley has served on 13 NRC/NSF committees concerned with national facilities, the direction of science, and major environmental issues - including nuclear waste disposal and shale gas. These efforts include an appointment by President Barack Obama to the Nuclear Waste Technical Review Board. She is a past President of the Geochemical Society and has been involved with editing four journals.
She is currently Director of the Earth & Environmental Systems Institute, in the College of Earth and Mineral Sciences at Penn State. Her academic record and service have been recognized by numerous awards, culminating in membership of the US National Academy of Sciences.
Susan Brantley – you have dominated research in the area of fluid-mineral reactions in low temperature environments, and your work carries major economic implications and environmental importance. You are a profoundly important figure in geoscience today. It therefore gives me the greatest pleasure to acknowledge your outstanding achievements by conferring upon you now the Wollaston Medal of The Geological Society of London.
-- The Geological Society, Burlington House, Piccadilly, London W1J 0BG, UK