Pamela L. Sullivan is an Assistant Professor of ecohydrology in the Department of Geography at the University of Kansas in Lawrence, Kansas. Pam has been conducting Critical Zone research for the last eight years in carbonate (e.g., the Florida Coastal Everglades LTER and the Konza Prairie LTER) and shale (e.g, Shale Hills CZO) systems. Originally from Florida, Pam received her B.S. in Natural Resources Conservation at the University of British Columbia followed by a Ph.D. in Geosciences at Florida International University and postdoctoral research at Penn State University, where she worked with the Shale Hills CZO team.
"I seek to understand how biological and physical feedback mechanisms influence hydrogeochemical conditions across ecosystems." - Pam Sullivan
Specifically, I am interested in questions revolving around: (1) understanding the influence of plant-groundwater-vadose zone interactions on the soil atmosphere (e.g., pO2 and pCO2), solute transport, and weathering, (2) utilizing long-term hydrologic and meteorological data to quantify the effects of human modifications and climate on water budgets, and (3) determining the influence of critical zone hydrodynamics on weathering processes in shale and carbonate systems.
My research focuses on how interactions between climate, vegetation, and geology impact the security of our freshwater resources and the development of soil. In my lab, we quantify rates of plant-soil-water interactions and their controls on solute fluxes. These fluxes are what govern the availability and quality of our water resources and the abundance of arable land.
Each day the decisions we make impact our future climate conditions, access to potable water, and our ability to provide food to a growing human population. Yet, many of the models we use whether conceptual, analytical or numerical are underdeveloped. They lack fundamental physical and chemical processes and feedbacks between the atmospheric conditions above, the soil and groundwater conditions below, and the vegetation that mediate these interactions, defined as Critical Zone processes. At present the uncertainty that propagates from these models inhibits our ability to make well-informed decisions to ensure access to basic resources in the future.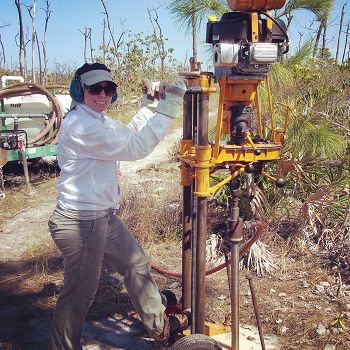 Critical Zone Observatories (CZO) bring together researchers from a wide array of disciplines, being exposed to this diversity has helped me to develop new perspectives and a deeper understanding of mechanistic processes governing the evolution of terrestrial systems.
CZOs offer a springboard for examining landscape evolution, and thus how the distribution of our natural resources will change into the future. One example is the exploration of the deep critical zone, where we are beginning to shed light on the processes that open the pore space that stores and transmits groundwater—a resource many rely on as their main drinking water supply.