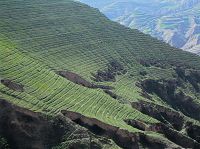 + More
Sites around the world with very high or low rates of precipitation or erosion could be ideal for building CZOs. A spectacular example of a site with erosional headcuts, perhaps driven by groundwater sapping in a formerly terraced hillside, is shown near Linxia Gansu, China. Credit: Eric Kirby. Published in EOS, 05 June 2015.
23 Jun 2015
News Source: Eos buzz
The results of a pre-AGU 2014 international Critical Zone workshop in San Francisco were recently published in Eos Buzz.
Image: Sites around the world with very high or low rates of precipitation or erosion could be ideal for building CZOs. A spectacular example of a site with erosional headcuts, perhaps driven by groundwater sapping in a formerly terraced hillside, is shown near Linxia Gansu, China. Credit: Eric Kirby. Published in EOS, 05 June 2015. [Click image to enlarge]