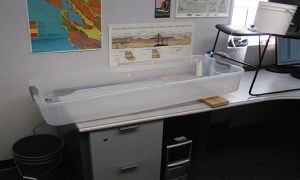 Photo of a stream model made from an approximately 4 foot long plastic tub, pipe valves, tubing, pvc pipe, buckets, and other materials.
Use simple stream models to explore the concept of watersheds, catchment basins, and to introduce California water resources.
Grades 3 - 12
Hydrology
Demo • Activity
Observatory: Sierra CZO
Author(s): Southern Sierra CZO
Contact(s):
---
---
Details for this Resource
Take a look at the process of runoff water by examining watershed and catchment basins. This activity is designed for 4th-12th graders. Students explore the concepts of watersheds, catchment basins, and are introduced to California's Water resources. Through this fun, hands-on activity students will learn basic stream features and flow properties, while understanding the sources of water in California.