Data Policies & Guidelines > Data Sharing Guidelines > IGSN
---
Benefits and Outcomes
The International Geo Sample Number (IGSN) is a globally unique and persistent identifier for geologic and environmental specimens (rocks, cores, soils, water, gas, plants, etc.) and related sampling features (sites, sections, wells, bore holes, dredges, etc.). The IGSN is used to unambiguously identify specimens, sites and other sampling features in the lab and in the literature, and to access their metadata, including parent-child relationships between them.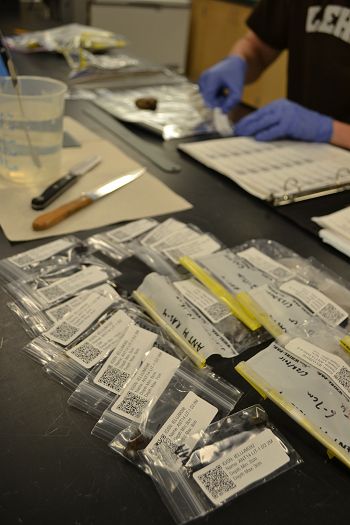 Consider SESAR-generated and smartphone-friendly IGSN bar codes for your specimen labels, ideally before you go into the field to collect field specimens or as you generate the specimen in the lab.
The IGSN can help you to:
build comprehensive datasets by tracking the analytical history of a specimen, by linking data collected at different times by different investigators, and by linking multiple samples and sub-samples to a single parent sample or sampling site.
share your specimens with others and re-use specimens belonging to other investigators;
manage specimen archives using scannable bar codes;
search the scientific literature for all publications with results from your sites or specimens;
fulfill data management requirements set by NSF and other funding agencies.
The System for Earth Sample Registration (SESAR) is a web-based registry that promotes sharing, linking, and integration of sample-based data by the assignment of IGSNs. More than 4 million sites and samples have already been registered in SESAR, including thousands of CZO sites and samples.
The CZOData team has partnered with SESAR to develop a set of CZO-specific guidelines, vocabularies and templates. In addition, the CZO Data Visualization Portal displays sites and samples registered in SESAR, as well as some basic metadata about them, through the use of SESAR Web Services.
---
Instructions
---
Additional information