Making the connection – from the classroom to the field
Connections are everything these days, whether it is chatting with family across the continent or gathering with colleagues to discuss work, and teenagers are no exception. While they are up-to-date and connected to each other through apps and social media, their connections with nature and the natural environment could benefit from an upgrade. With the recent surge in energy exploration of the Marcellus Shale in the region and new potential environmental impacts (Brantley et al. 2014), TeenShale was developed to engage local high school Earth Science students in out-of-classroom experiences. Students learn first-hand about geology; the chemical characteristics of water and the water cycle; gas and coal extraction from the sub-surface; and environmental impacts like deforestation and land use changes in Pennsylvania.
The project takes students up the Allegheny Plateau in central Pennsylvania, specifically to Black Moshannon State Park, a recreation area surrounded by state forest. One of eight state forests in the Pennsylvania Wilds region, Moshannon State Forest, is comprised of northern hardwoods, mixed oaks, and oak hickory (DCNR, 2015) stands and hosts year-around outdoor activities such as hiking, hunting, fishing, horseback riding, and cross-country skiing. This natural environment hosts a spring-fed lake, dammed at the north end, which creates the headwaters for Black Moshannon Creek (DCNR, 2015). From the headwaters to the confluence, Black Moshannon Creek meanders approximately 30 kilometers (PFBC, 2016) passing underneath a federal highway and past active unconventional gas extraction wells from the Marcellus Shale (SRBWRP, 2016). The highway and gas wells are examples of land use change with new potential environmental impacts. For example, the application of salt to road surfaces during snow and ice events can migrate into soils and streams during melt (Moore et al., 2017) and well development could led to migration of gas into ground and surface waters (Brantley et al., 2014).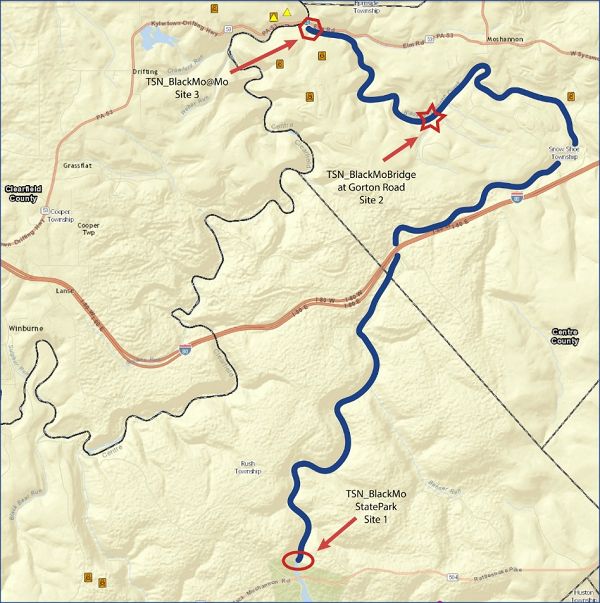 Figure 2. Map courtesy of Susquehanna River Basin Commission Water Resource Portal (www.gis.srbc.net/wrp/). Icons indicate either gas pads (orange icon) or pending permitted pads (yellow triangle).
In the state park, students connect the interactions of Earth systems, weather systems, and resource management taught in textbook lessons to observations they make in nature. First year participants (8th – 9th graders) learn to use equipment and apply the same techniques used by academics and government agencies to monitor the water quality of Black Moshannon Creek. Each participant learns to assemble the FlowTracker2 and quantify stream flow (m3/s) across the creek. They also measure conductivity (μS/cm) or the capability of water to pass an electric current, dissolved oxygen (mg/l) which is vital for all aquatic organisms, and collect samples for laboratory analyses.
TeenShale has gained new participants with interest in the environment.
Every fall since 2013, TeenShale has gained new participants with interest in the environment and environmental issues surrounding energy exploration. Some participants have enjoyed the place-based experiential learning so much they continue to participate each year, with four seniors in the 2016-2017 cohort. Maintaining interest with the upperclassmen has not been as difficult as anticipated. To complement the higher level of science and math in the multi-year students' curriculum, data analyses techniques increase in complexity and lead to a deeper understanding of their system. In addition to data acquisition through stream monitoring, students have gained experience with technology through Google productivity software and hydrology education tools, such as HydroDesktop (Ames et al., 2012) and HydroClient (www.data.cuahsi.org).

Students learning techniques used by academics and government agencies to monitor the water quality of Black Moshannon Creek.
For a hands-on analytical experience, the mobile science lab at the University of Pittsburgh spent a day with the students teaching water quality analyses techniques, using samples from Black Moshannon Creek. The 2015-2016 cohort gave an oral presentation in the Allegheny College Spring Student Symposia for high school students and the 2016-2017 cohort presented in the Undergraduate Research Poster Session at 2017 Northeast/North-Central Geological Society of America Joint Section Meeting. This next generation of scientists have experienced the circle of science from data acquisition to visualization and interpretation to presentation leading to new research questions. They have solidified an understanding of the scientific method, increased their knowledge of project design and implementation, and gained confidence working with and communicating about data.
To learn more about what the students do, read their byline articles here: http://www.centredaily.com/living/article42851463.html; http://www.centredaily.com/living/article42919155.html; and http://www.centredaily.com/news/local/education/penn-state/article78736852.html
References Cited:
Ames, D.P., Horsburgh, J.S., Cao, Y., Kadlec, J., Whiteaker, T., and Valentine, D., (2012) HydroDesktop: Web Services-Based Software for Hydrologic Data Discovery, Download, Visualization, and Analysis. Environmental Modelling & Software. Vol 37, pp 146-156, doi:10.1016/j.envsoft.2012.03.013.
Brantley S.L., Yoxtheimer D., Arjmand S., Grieve P., Vidic R., Pollak J., Llewellyn G.T., Abad, J., Simon, C. (2014) Water resource impacts during unconventional shale gas development: The Pennsylvania experience. J. Coal Geol 125, 140-156.
Department of Conservation and Natural Resources (DCNR, 2015) A Pennsylvania Recreational Guide for Black Moshannon State Park.
Moore, J. et al., (2017) Non-Point Source Contributions Drive Elevated Major Ion and Dissolved Inorganic Carbon Concentrations In Urban Watersheds. Environmental Science & Technology Letters, doi: 10.1021/acs.estlett.7b00096.
Pennsylvania Fish & Boat Commission (2016) Pennsylvania Wild Trout Waters Natural Reproduction Report, Retrieved from http://www.fishandboat.com/Fish/PennsylvaniaFishes/Trout/Documents/trout_repro.pdf
SRBWRP, Susquehanna River Basin Water Resource Portal (2016), Retrieved from http://gis.srbc.net/wrp/
All comments are moderated. If you want to comment without logging in, select either the "Start/Join the discussion" box or a "Reply" link, then "Name", and finally, "I'd rather post as a guest" checkbox.
General Disclaimer: Any opinions, findings, conclusions or recommendations presented in the above blog post are only those of the blog author and do not necessarily reflect the views of the U.S. CZO National Program or the National Science Foundation. For official information about NSF, visit www.nsf.gov.