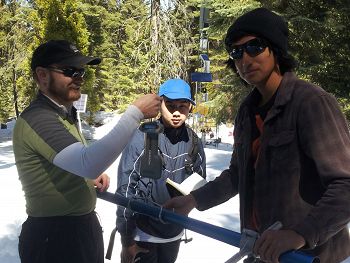 Mentor Matt Meadows (SSCZO, left) works with students Chong (center) and Sergio (right) to weigh a core of snow.
The spring 2013 cohort of CART students will present their research conducted at the SSCZO. Their project was designed to address needs for better information on water resources, especially the spatial variability of the snowpack. The six students worked with mentors Matt Meadows and Erin Stacy and CART teacher Steve Wilson to design and execute a research plan. They made two trips to the
Providence Creek site
to measure snow depth and snow density around trees.
Come see what they found at the CART Environmental presentations! The event will be at CART, on May 21, 2013, from 6-8 pm.