When and why does soil erosion occur in undisturbed forests?
In forests and other undisturbed environments, it can be hard to tell whether erosion is occurring at all. But, rainstorms and snowmelt continuously lead to transport of soil across the landscape to streams, where it can travel far from the source. This transfer of soil and organic matter is a major component of the Critical Zone - the zone between rock and air that is critical for life. Erosion impacts soil fertility and the carbon balance.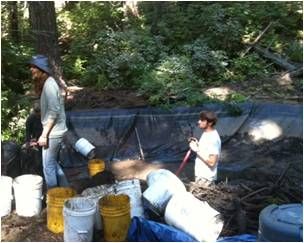 Researchers at the Kings River Experimental Watershed (KREW) and the Southern Sierra Critical Zone Observatory (CZO) have been tracking erosion in several small watersheds to examine the amount and composition of sediment produced each year. This project is part of a multi-investigator study of the Sierra Nevada critical zone for an elevational transect stretching between valley floor to ridgeline.
Join Erin Stacy, staff with the Southern Sierra CZO, to learn more about erosion & its impacts on soil composition in the forests of the Sierra Nevada.