Abstract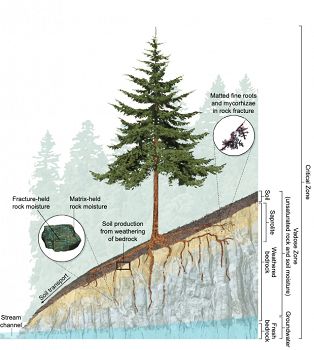 The emergence of critical zone (CZ) science has provided an integrative platform for investigating plant ecophysiology in the context of landscape evolution, weathering, and hydrology. The CZ lies between the top of the vegetation canopy and fresh, chemically unaltered bedrock and plays a pivotal role in sustaining life. We consider what the CZ perspective has recently brought to the study of plant ecophysiology. We specifically highlight novel research demonstrating the importance of the deeper subsurface for plant water and nutrient relations. We also point to knowledge gaps and research opportunities, emphasizing, in particular, greater focus on the roles of deep, non‐soil resources and how those resources influence and coevolve with plants as a frontier of plant ecophysiological research.
Citation
Dawson, T.E., Hahm, W.J., & Crutchfield-Peters, K. (2020): Digging deeper: what the critical zone perspective adds to the study of plant ecophysiology. New Phytologist 226 (3): 666-671. DOI: 10.1111/nph.16410
This Paper/Book acknowledges NSF CZO grant support.