Anthony Aufdenkampe and Steve Hicks presented the keynote lecture and demonstration of open-source wireless sensor technologies -- a direct spinoff of their CZO research -- to the Eleventh Annual Conservation District Watershed Specialist Training Meeting in State College, PA on October 11, 2011. Aufdenkampe described the how the explosion of open-source electronics hardware technologies could revolutionize environmental sensing, and Hicks snapped together plug-and-play electronic components building a wireless sensor array from scratch in front of the riveted audience. By the end of the demonstration, Hicks was projecting real-time air temperature and soil moisture of plotted plants from around the room.
Here's the news story posted on the PACD's website:
The 11th annual state-wide meeting of the Conservation District Watershed Specialists was held October 11th and 12th in State College. Fifty-eight watershed specialists attended this year's meeting.
One participant said, "It is cool new technology and very applicable."
Based on the evaluations, participants were excited about the presentation by Dr. Anthony Aufdenkampe from the Stroud Water Research Center. His presentation, "Wireless Sensor Networks for Watershed Assessment – Emerging Technologies," introduced watershed specialists to less expensive alternatives to monitoring equipment. One participant said, "It is cool new technology and very applicable." Another said, "I really appreciated the science-based and commonsense-based information."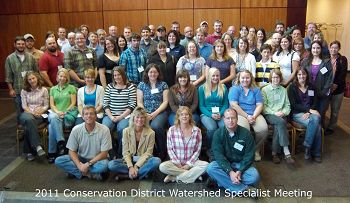 Fifty-eight watershed specialists attended the 2011 Annual Meeting of PA Conservation District Watershed Specialists.
Other comments on the evaluations praised the watershed specialist reception. As one watershed specialist put it, "The reception is a great opportunity to network and hear about each others' projects."
Again this year, a photo contest was held during the meeting. Kim Bonfardine of Elk County Conservation District won Best of Show for her photo. Congratulations Kim!