From the late 1940s to the early 1960s, precipitation and streamflow were measured by USFS scientists on three 10 to 15-ha catchments in the Calhoun Experimental Forest. After gathering more than 10 years of data, the USFS abruptly closed the Calhoun Experimental Forest but strip chart records were carefully archived by hydrologists at Coweeta Hydrologic Laboratory. These strip charts will be digitized and converted to flow rates and water volumes. Weirs, approach sections, and stilling wells will be restored and re-instrumented with float potentiometers, pressure transducers, and data loggers. Flow rates, response times, and flow volumes will provide evidence for how catchment hydrologic responses have evolved since the 1950s.

An advanced sampling plan will be developed for georeferenced collections of soil solids, soil water, and soil gases to efficiently map soil physical and chemical properties, soil lateral and vertical hydrologic fluxes, and dynamics of soil CO2 and O2.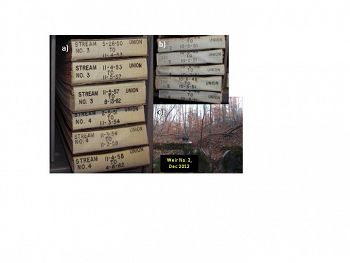 Historic precipitation and streamflow records are being digitized to study recovery from erosion over six decades.