The fire is now stable within fire breaks at 12,535 acres (50 km2). 988 acres (4.0 km2) of the Reserve burned, mostly due to controlled backfires. One small watershed, Barnwell Creek (2 km2), was entirely within the burn area. Fortunately, due to the lack of wind, the fire was a slow moving ground fire. This is healthy for the Mendocino north coast ecosystem, which is fire adapted.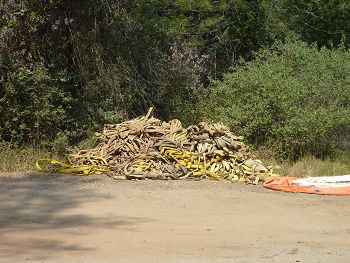 Piled up waterhose. These were run from the South Fork Eel River up the firebreaks along the mountain ridges.
CalFire is now working with Reserve Steward, Peter Steel, on repairs and plans for erosion mitigation for the fire breaks on the steep slopes.