The Pennsylvania Water Science Center (WSC) is one of 69 U.S. Geological Survey (USGS) Science Centers. The PA Water Science Center's mission is to collect, analyze and disseminate the impartial hydrologic data and information needed to wisely manage water resources for the people of the United States and the Commonwealth of Pennsylvania.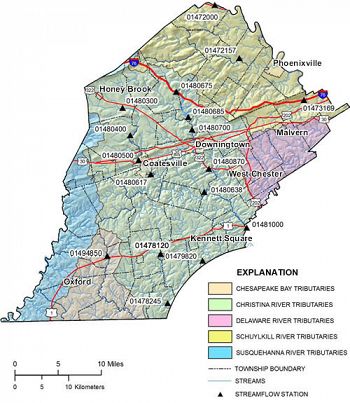 Since 1969, the USGS PA Water Science Center has had a cooperative water-resources program with the Chester County Water Resources Authority (CCWRA) to study the Christina River Basin. This includes maintaining 14 streamflow gauging stations, 9 continuous water quality monitoring stations, about 15 fixed and rotating biological & chemical stream sampling stations, 7 groundwaters monitoring stations, and 5 precipitation monitoring stations within the PA portion of the Christina River Basin.
The Christina River Basin CZO partnered with the PA Water Science Center in 2011 to publish historical unit value water quality data for 7 stations dating back as far as 1986.
The PA Water Science Center has published over 60 reports, maps and atlases based on this work.