Earth Science students at State College Area High School will hold a fundraiser next week to help offset the expense of field trip transportation and supplies for the TeenShale Network (TSN).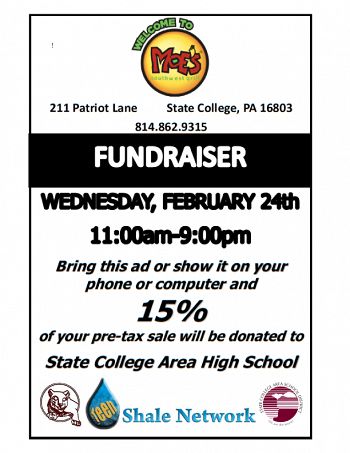 February 2016 Fundraising Advertisement for TeenShale Network Chapter at State College Area High School
The student-organized fundraiser will be held from 11 a.m. to 9 p.m. Wednesday, Feb. 24 at Moe's Southwest Grill. The restaurant will donate 15 percent of all pre-tax sales to the State College Area High School Chapter of TSN when customers present the students' advertisement.
In its fourth academic year, the TSN pairs students from 8th to 11th grade with Penn State researchers to monitor water quality along Black Moshannon Creek.
This year, for the first time, the 28 students self-selected working groups. Some are focusing on number crunching and poster design, while other students are managing social media (Twitter @TeenShaleNet16; Instagram – TeenShaleNetwork) and website presence (http://bjs291.wix.com/blackmoteenshale).
Students also created a fundraising subgroup, whose members initiated contact with local merchants, designed a logo, and selected Moe's to host the event.