Four landscape positions have been selected and instrumented along a sandstone catena in Garner Run. This research site, predominantly Tuscarora Sandstone, provides a lithological contrast to Shale Hills, while maintaining similar climate and vegetation. As the team moves from "measure everything everywhere" to "measuring only what we need," this catena design will be implemented at each expansion site. The downscaled instrumentation includes sap flow sensors; micro-lysimeters, CO2 and O2 sensors, gas samplers, and soil moisture sensors in soil pits at the four landscape positions; and a COsmic –ray Soil Moisture Observing System (COSMOS). In the Garner Run stream, an S::CAN Con-cube was installed to measure turbidity, conductivity, pH, ORP, DO, NH4, NO3, F, K, TOC, and DOC. Participants in the 2015 REU/RET CZO, Meaghan Shaw (SMU) and Kelsey Bicknell (U. New Mexico), assisted with the installations and will work on calibrations this summer.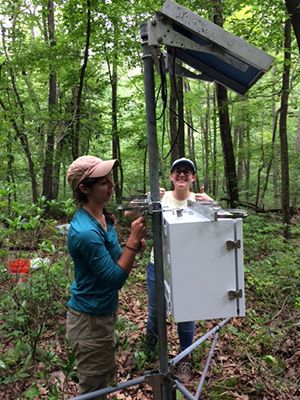 2015 CZO REUs Meaghan Shaw (SMU) and Kelsey Bicknell (U. New Mexico) wrap up the istallation of the COSMOS unit in the Garner Run catena.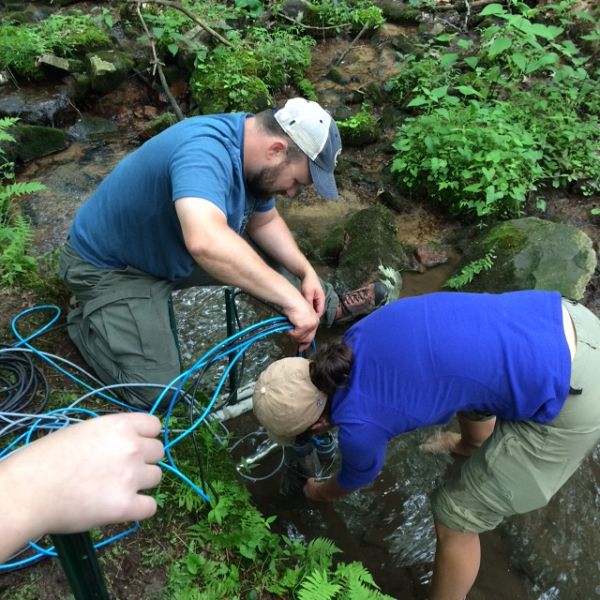 Installation of the S::CAN spectometer in Garner Run nears completion with Brandon Forsythe and Kelsey Bicknell.